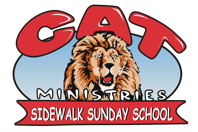 About CAC & SGNH - Get to know us
The Children's Activity Center (CAC) is a faith based inner-city children's ministry, our main focus is to target at-risk kids in Houston's toughest neighborhoods and reach them immediately and urgently with the life changing message of Jesus Christ. Through various methods, including busing (Children's Activity Center) and the use of colorful fourteen-foot storage trucks that convert into portable stages (Children's Activity Truck), we bring weekly presentations of the gospel right to the very doorstep of the children who so desperately need it; using the media arts, drama, puppetry, powerful object lessons and preaching . Each week staff and volunteers visit the homes of attending children, announcing weekly events and building valuable personal relationships with family members. These visitation captains also identify the current needs of the people that can be met in a timely fashion; both spiritual and physical . The Children's Activity Center and Children's Activity Truck, have emerged as a prominent force in helping Houston's inner-city children in different locations city-wide. Through a combination of staff, interns, and volunteers a steady stream of 2000 kids weekly are being lifted, helped, and healed through this life changing ministry. Also, powerful partnerships are being formed with other groups to model and replicate this dynamic ministry in other cities, which to date include Portland, Oregon and Toledo, Ohio. Recently we have expanded our mission in the Gulfton community of southwest Houston to include day camps at the gospel Lakes Ranch and reading tutoring and to help kids with school work using the Bible as our main text book.
"We believe that every child has the right to hear the Gospel of Jesus Christ, and to see that Gospel demonstrated in the life of at least one, sincere, born-again believer."
Our History
Pastor David Ellis founded The Children's Activity Center in March of 1996. Upon graduation from Bible College, David traveled throughout the United States and Haiti helping the poor. In 1994, he incorporated Walking Faith Ministry as a non-profit organization. Arriving in Houston, he became aware that very little was being done to reach the young people with the liberating light of the Gospel of Jesus Christ. Having heard of one man's successful ministry in the ghettos of New York, and feeling the need to help the children of Gulfton, Houston's highest crime area, he ventured to hold his first youth meeting on an abandoned parking lot. Thus, in 1996 the Children's Activity Center was born and prospered until his death in 2002.
Since Pastor Dave's death the Children's Activity Center, under the direction of Pastor Scott Binkley, has grown from two meetings a week to seven meetings city-wide on a weekly schedule, incorporating our team of staff, interns, volunteers, and our extension of the Children's Activity Center to include the Children's Activity Truck (CAT Truck), a mobile truck unit equipped with all the necessary tools to bring the Gospel literally anywhere in the city of Houston. Through the Spirit of God and dependence on the Lord Jesus Christ, the Children's Activity Center has retained the founder's original fire and vision for the lost and dying kids of the city, while building on the original model. Today, through prayer and a desire to reach more inner-city kids, a vision is being formatted to reach one million more kids in ten years through internships, partnerships, training, and dynamic presentations of the Gospel to evangelize and disciple families in the inner-city..
Our Vision
Walking Faith Ministry (WFM) was founded to obey and carry out the Lord's command and great commission in Matthew 28:19-20 "Go ye therefore, and teach all nations, baptizing them in the name of the Father, and of the Son and of the Holy Ghost: Teaching them to observe all things whatsoever I have commanded you: and, lo, I am with you always, even to the end of the world." This commitment will be implemented upon the foundation of Jesus Christ, utilizing the Metro Ministry model to reach at-risk inner-city youth and children - first, in the city of Houston; secondly, to our nation; and then, beyond, into the uttermost parts of the earth.
Our purpose is to reach children with the truth of the Gospel before the world and other destructive influences have an opportunity to establish negative and spiritually damning strongholds in their minds that are contrary to the will of God. Our vision is to raise up a Godly standard and positive vision that will combat and tear down the destructive influences that threaten their lives on a daily basis. In doing so, we have committed our entire God-given resources of time, talent, income, planning, equipment, and totality of our lives to reach these kids and their families and to bring them hope beyond the lives they are currently living.